When setting organisational goals, one of the most important aspects is determining the appropriate measurements to track your company's progress. If you want your business to be competitive in a changing market, you must understand how well the company and its employees are performing, where you can improve, and how your business's actions affect the overall strategy.
Three of the most popular modern ways to measure success are as follows:
Key Performance Indicators (KPIs)
Objectives and Key Results (OKRs)
Key Result Areas (KRAs)
The goal should be to determine how to balance these complementing measurement indicators as part of your organisation's goal setting and monitoring.
What is a KPI?
Key Performance Indicators (KPIs) are critical key indicators of progress towards a goal. KPIs act as a focal point for strategic and operational improvement, serve as an analytical basis for decision-making and aid in focusing attention on what is most important. From finance and HR to marketing and sales, key performance indicators help every area of the business move forward at the strategic level. KPIs should typically do the following:
Link to strategic objectives
Direct where to focus resources
Be measured against targets
We strongly advise you to make your KPIs measurable. By giving quantifiable value, you may provide context and compare performance for whatever you're evaluating. It is sometimes feasible to create qualitative KPIs, however, it is not recommended because this structure may lead to data misreading and subjective interpretations.
Examples of KPIs
There are countless examples of KPIs spanning all industries. A key performance indicator (KPI) can be any quantitative (or, in rare situations, qualitative) metric that a company uses to assess its progress and achieve its objectives.
Here are some examples of common KPIs for various businesses and divisions: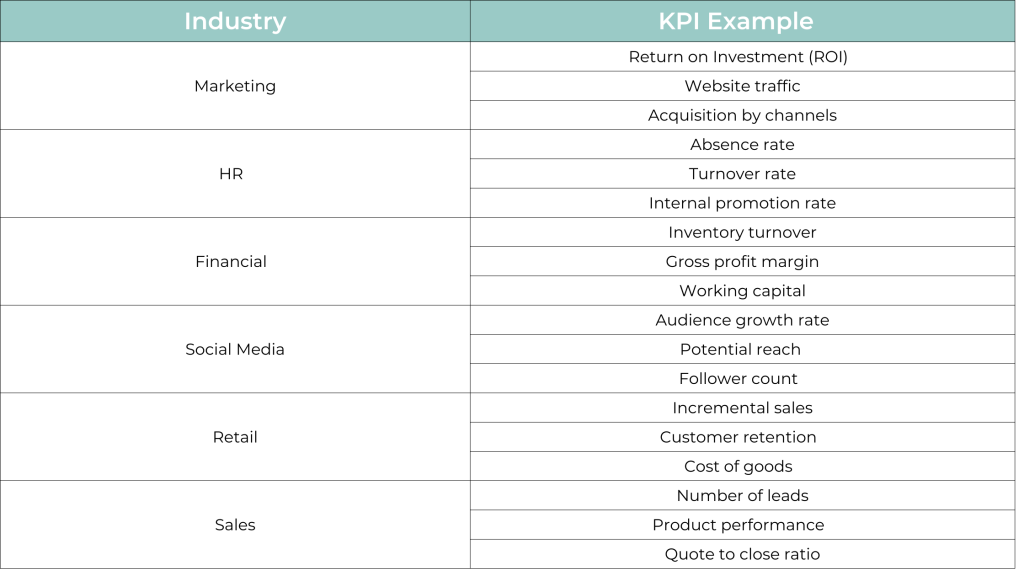 What is an OKR?
Objectives and Key Results (OKRs) are a collaborative goal-setting process that teams and individuals use to set challenging, ambitious goals with measurable outcomes. OKRs are used to track progress, promote alignment, and inspire participation in the pursuit of measurable goals. OKRs are utilised by some of the world's most successful firms to develop and implement their plans.
An organisation will typically have three to five high-level objectives and three to five critical results for each objective. To provide a clear performance evaluation for the objective, key results are numerically evaluated.
Always quantifiable
Able to be objectively scored on a numerical scale
Timelined
Ambitious and challenging
Examples of OKRs
OKRs are based on big-picture goals and targets that are intended to push employees and businesses ahead, thus they should be on the "nearly impossible" side. The OKR framework is a never-ending cycle of rapid, dynamic growth.
Some general OKR instances are as follows: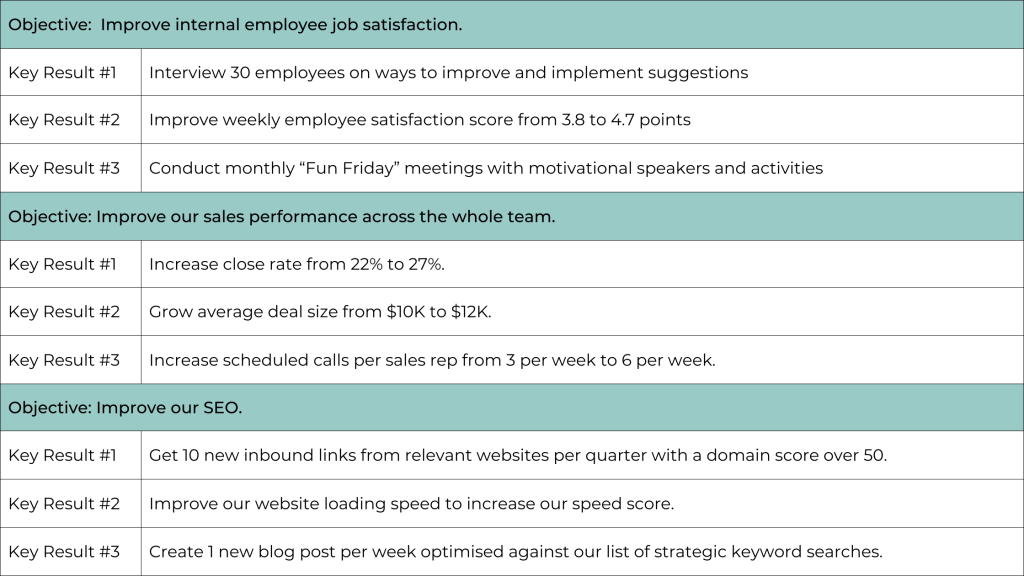 What is a KRA
A key result area (KRA) is a strategic element, either internal or external to the company, where significant positive results are required for the organisation to achieve its strategic goals and therefore progress towards realising the organisation's longer-term vision of success. Key Result Areas are sometimes known as 'critical success factors' or 'key success drivers'.
Furthermore, KRAs highlight job descriptions in a job profile, assisting employees in better understanding their roles and duties and aligning their efforts with the organisation's goals.
Essentially, KRAs are as follows:
the fundamental area of outcome for which an employee or department is responsible.
a metric that defines the areas in which the employees are responsible to produce results.
a qualitative measure or metric as it defines the areas that can help in achieving the objectives of the organisation.
helps find out the scope of a particular job or product.
Examples of KRAs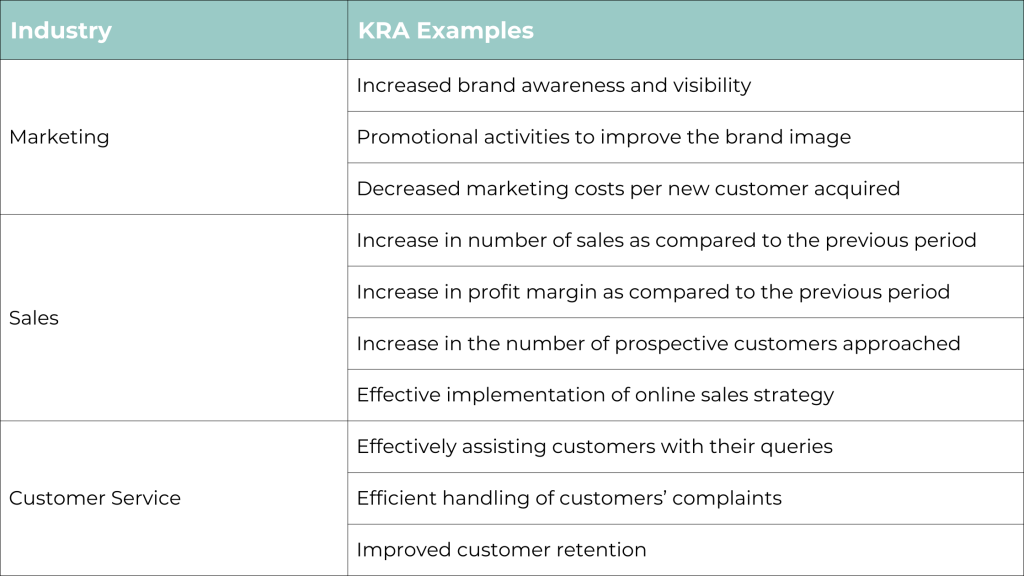 Pros and Cons
An annual review is intended to give a forum for a leadership team and employees to examine performance, accomplishments, and contributions to the organisation.
OKRs are strategic frameworks, whereas KPIs are measurements inside a framework. OKRs are a straightforward, black-and-white approach to goal achievement that employs precise criteria. An organisation will typically have three to five high-level objectives and three to five critical results for each objective.
The importance of measuring performance
Whatever technique your company chooses, the bottom line is that monitoring and reviewing performance is the best way for your company to succeed. When it comes to successfully attaining the organisation's goals, taking the time to create targets and evaluate them at the end of the designated period is critical.
Need Assistance? 
Employees are one of your most valuable assets, but also one of your most expensive. Setting performance criteria and implementing effective performance management tools assist staff in meeting performance targets and milestones.
Metrics are the key to effective performance management. Having tools on hand that show possible areas of improvement for employees can enable business operators to expand and develop the human potential inside your organisation.
The hussetHR team specialises in performance evaluation, including building, measuring, and recording performance standards and using specialist human resource staff to guide and instruct your business.
We can monitor employee performance against a benchmarked standard using our cutting-edge HR software and know exactly where to focus training and support.
Applying the right measurements to track your company's progress is crucial when defining organisational goals. To remain competitive in a changing market, you must understand how well your firm and people are functioning, where you can improve, and how your actions effect the broader plan.
At hussetHR, we empower managers and employers to make informed decisions and support them in achieving their organisation's goals.
We are here to address any questions you may have about how your organisation can best apply performance measurement strategies.
---
When determining the optimal solution for your company, it is advisable to get experienced HR advice. hussetHR is always available via phone or email and ready to advise you on the best course of action.
Call us today at 1300 487 738
---
Sources:
What's the difference between the KPIs, OKRs and KRAs