What are channels of communication in the workplace?
Communication channels are simply different ways to communicate with others. In a corporate setting, this is usually to share information, ask questions, or provide responses. This could be in person as a face-to-face chat, over the phone, or virtually via email, social media, or instant messaging. 
You can divide your communication channels into two categories: external and internal channels. 
External channels are used to communicate with stakeholders outside of your organisation, such as customers, prospects, vendors, and investors. Internal channels are for communicating with your co-workers and other departments inside your business. 
Modern businesses have a multitude of communication channels from which to choose. When your employees understand how to best use them, you can increase information flow and encourage collaboration amongst your team. 
Channels of communication include both verbal and nonverbal cues, as well as written documents. Because so much of communication is nonverbal, certain channels may be more effective than others. In today's workplace, digital technology also offers numerous online communication channels that can connect employees from all over the world. 
What are channels of communication used for in the workplace, and why are they important? 
Clear communication channels can add value to a workplace and aid in the flow of information within an organisation.  
Regularly exchanged information within a corporation may include: 
Corporate policies and events 
Information on employee benefits 
Communication between managers 
Orders and requests from customers 
Team brainstorming 
Status reports 
Clear communication channels may contribute to workplace productivity in the following ways: 
Deliver communication instantly or on time  
Ensure that all team members receive the same information  
Increase productivity because employees know what is expected of them 
Encourage group debate and input. 
Allow staff to express their issues or queries. 
Encourage more team contact. 
Employee ties should be strengthened. 
Effective channels of communication in the workplace
There are many channels of communication available for a workplace to use. The most important thing is to determine which channels will best serve your team's needs. The seven communication channels listed below are some of the most prevalent and effective in the workplace. 
In-person
Conversations in person are one of the most effective forms of communication in business. When you talk to someone in person, you can utilise both verbal and nonverbal communication signals to increase the quality and effectiveness of your chat. 
When you talk to someone in person, it is also simpler to transmit the tone of the discussion. Miscommunication and possible misunderstandings can sometimes occur because written or digital communication can lack tone and meaning. When you communicate in person, the tone of your voice and your body language might help to clarify your words. 
In-person communication, with the option of a back-and-forth narrative, is a helpful style of communication for giving sensitive information or information that may be unclear while also saving a lot of time. 
Video conferencing
Video conferencing is another highly effective communication channel. Video conferencing allows you to read facial expressions while also allowing flexibility in the workplace. A large group can be on a video call from anywhere in the world, allowing information to flow instantly to everyone who needs it. 
Video conferencing platforms usually feature additional options such as cloud storage, file and screen sharing, and call recording, allowing you to review calls for quality and training. 
Platforms you might use: Zoom or Microsoft Teams 
Phone Calls
Phone calls allow the ability to clear up uncertainty or deliver fresh information. Phone calls lack the nonverbal clues of face-to-face chats or videoconferencing, but they can serve as a basic communication medium within the workplace. 
Phone calls are excellent for one-on-one interactions or time-sensitive communication, and are a two-way, real-time communication channel that allows you to hear tone of voice. 
When this channel might be used: when an employee unexpectedly needs to take a day or two off and you need to quickly determine which responsibilities must be delegated as soon as possible. 
Emails
Emails are important for brief chats, sending or receiving attachments, and contacting larger groups of individuals. A brief email can convey information quickly and easily, while a lengthy email can cover a more complex subject with attachments. Employees can share documents with a complete team or department through email, which allows for numerous recipients. 
Email is an excellent method for sending formal documentation to staff at the start of a new project. 
When this channel might be used: When you need to send onboarding papers and a formal welcome letter to a group of new hires 
Platforms you might use: Microsoft Office, Gmail 
Text Messages
Your staff may view text messages as one of the most convenient modes of communication. Text messages, with a 98 per cent open rate, are a proven way to get brief, casual written messages conveyed to employees from anywhere—especially when you need them to be read quickly. 
This informal communication channel is a terrific way to get fast responses or send reminders without being intrusive or requiring an internet connection. It also enables you to easily share photographs, videos, and links from your phone. 
When using text messages as a channel for internal communication, it should be noted that there are some negatives to consider. Text messages may cause employees to become distracted by non-work-related conversations. Texting also runs the risk of the message being communicated to the incorrect person. Therefore, secure information should never be exchanged via text message. 
Online Instant Messaging Platforms
Teams can connect quickly and directly with one another via instant messaging platforms and message boards. This type of platform can help improve general communication among team members and keep everyone involved in projects up to date. 
Instant messaging platforms are ideal for quickly disseminating timely information to many individuals at the same time. 
Platforms you might use: Slack, Microsoft Teams or Google Chat 
Social Media
Social media is a relatively new communication tool that organisations are only now beginning to use for internal teams. While social media is often thought of as connecting with individuals outside of the workplace, LinkedIn Groups and Facebook Groups offer new ways for businesses to improve team communications. 
Through less formal company communication, social media groups are excellent for facilitating internal networking and culture building. While you won't be able to reach everyone unless you have social media profiles, these organisations are useful for delivering reminders about previous announcements or locating a quick helping hand. Notifications are built-in, so you may reach the masses all at once. 
Social media is also an excellent channel for external communication. Chatting with customers through social media messaging is sometimes the most efficient way to have a quick chat. 
Platforms you might use for internal communications: Facebook Groups, LinkedIn Groups 
Platforms you might use for external communications: Instagram DM's or Facebook Messenger 
Formal, informal, and unofficial communication channels
The above seven communication channels can be further categorised as formal, informal, and unofficial communication channels and can be used as needed in the workplace. 
Formal channels
A formal communication channel delivers information such as an organisation's goals, policies, and procedures. Messages in this type of communication channel usually follow a chain of command. This indicates that knowledge flows from a manager to his subordinates, who then pass it on to the next level of staff. Some examples of this are company newsletters, business strategies, directives, annual reports, agreements, company-wide communications, and board presentations. 
Informal channels
A chain of command or hierarchy may not be required in this type of communication. There will be a great deal of formal communication where such hierarchy or command is not required, but it will take place within the official framework. Some instances include interactions on the work floor, answering team member queries, lunchtime conversations, and many emails where formal command is not required, such as when someone needs quick information. 
Unofficial channels
Unofficial channels are when employees communicate about non-work-related issues in or outside of the workplace. Managers should be aware of the existence of unofficial channels of communication. 
Ensuring your employees select the most appropriate communication channels 
Because there are so many channels of communication accessible in the workplace, it can be difficult for employees to know which one is best for particular messages. It is important to determine which channels will best serve your team's needs and to document these channels and their intended use. 
You can encourage your employees to keep your communication channels person-centred and thoughtful by instructing them to do the following: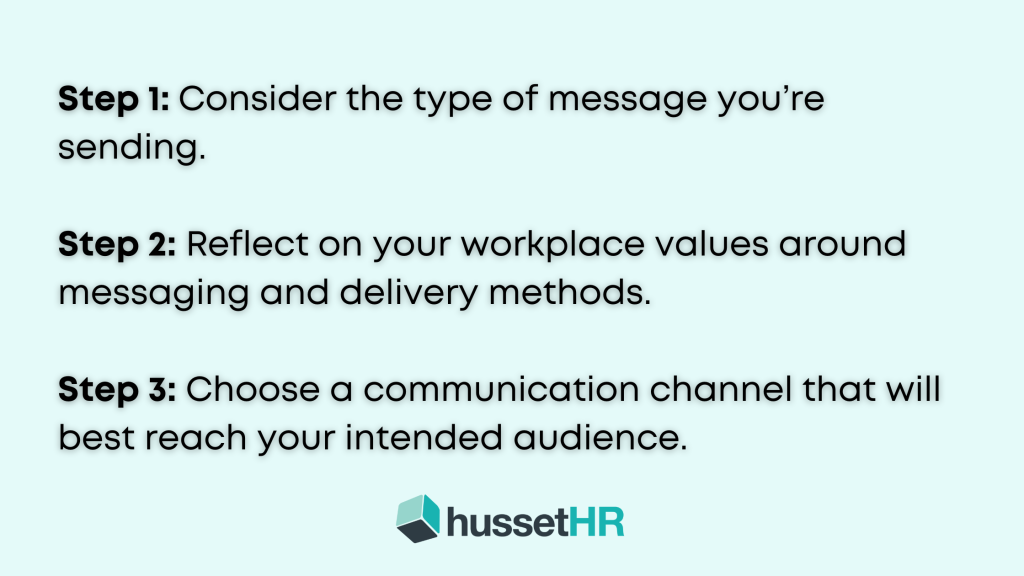 How can hussetHR help?
It is important to identify which channels will best suit your team's needs, document them, and educate your staff on which channels to utilise and when. At hussetHR we can work with you to determine the most beneficial communication channels for your workplace and develop documents that your team can reference. 
At hussetHR, we empower managers and employers to make informed decisions and support them in achieving their organisation's goals. 
We are here to address any questions you may have about how your organisation can best utilise various communications channels. 
---
When determining the optimal solution for your company, it is advisable to get experienced HR advice. hussetHR is always available via phone or email and ready to advise you on the best course of action.
Call us today at 1300 487 738